The Jacksons Family Drama...
Whats going on with the Jacksons fmaily? well...everything has gone wrong, the will for one leaves nothing for Michael's siblings and Katherine, Michael's mother cant be guardian to the children anymore because she apparently abandoned them for a couple of days...14 year old Paris Jackson took it to her twitter


Janet 'storms house' with brothers Jermaine and Randy in 'bid to remove three children'


Janet accused of slapping her niece and calling her a 'spoiled little b****'
Paris reportedly screams: 'This is our house. Not the Jackson family house. Get the f*** out!"

Cops called to family home following physical fight between extended Jackson family

Feud erupted over Michael Jackson's disputed $500m will, which leaves everything to the children and nothing to his siblingsMatriarch Katherine has not been in contact with grandchildren for nine days after her children took her to Arizona and cut off her phone accessLawyer for Michael Jackson's children claims they 'aren't safe' around Jackson family
Marlon Jackson gives a tearful interview - and claims he has been cut-off from contacting his mother


As a result of the chaotic scenes, a lawyer acting on behalf of Prince, Paris and Prince Michael II, aka Blanket, has claimed they 'aren't safe' around the Jackson family.

'

We are acutely concerned about the welfare of Mrs. Jackson, and most particularly with Michael's minor children.

We are concerned that we do what we can to protect them from undue influences, bullying, greed, and other unfortunate circumstances,' Branca and McClain wrote.

The latest feud between the Jacksons is said to have been stemmed from a dispute over Michael Jackson's $500million will.
Jackson died in June 2009 at age 50 and left his estate to care for his mother and three children. He left nothing to his father or siblings, who have repeatedly tried to intervene in the estate.
Several have expressed doubts about the validity of his will.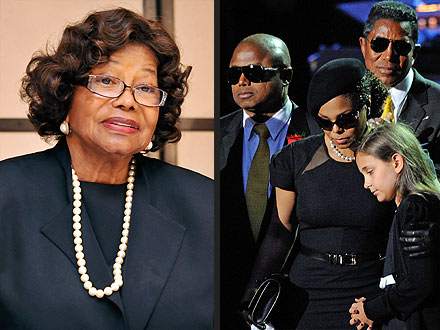 What changed Everything? Money changed everything...