Her Family's Past, Modern Day Inspiration
I like to say this all the time that you're past has nothing to do with your future aspiration, its you who chose to be who you are. South African Artist Mary Sibande whose ancestors were all maids used it as inspiration for her work and used her art to honor maids using their uniforms in their art.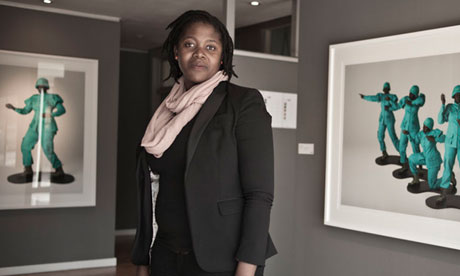 All the women in my family were maids. And here I am, born in 1982, and my destiny is totally different and I have this freedom to be what I want to be. But my grandmother, she spoke about all the things she wished she could have been
It was this that gave Sibande the idea for "Sophie", an idealised maid dressed in Victorian crinolines. She had a mannequin cast from her own body and shot it in different poses. "With her eyes closed. That, for me, illustrated the idea of aspiring and wishing." The photographs were then blown up as billboards and exhibited around Johannesburg during the World Cup.
I was playing with the idea of the dead queen. As soon as she dies, she's replaced with another one so the throne is forever occupied. I was looking at this relay of maids from one generation to another. My mother had to pass it on. But things are changing in South Africa so I didn't inherit it. Instead, I felt this need to celebrate these women.People were confused by the pictures. They wondered if they were adverts, because they used the same language as advertising. And why, if she's a maid, was she wearing such a big dress. There was an amazing reaction from people.