Malaria Fighting Fashion
Fashion with cause...Mozzy repellent fabric dyed in Gambia and designed by Frederick Ochanda & Matilda Ceesay
Just What Africa needs...What do you feelabout Anti Malarial Clothes? Or Shall i say ....wearing mosquito nets...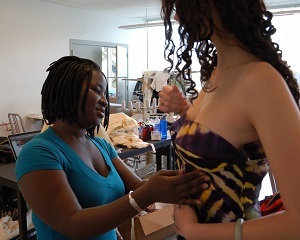 Frederick Ochanda, postdoctoral associate in Cornell's Department of Fiber Science&Apparel Design and a native of Kenya, teamed up with Matilda Ceesay, a Cornell apparel design undergraduate from Gambia, to create a hooded bodysuit embedded at the molecular level with insecticides for warding off mosquitoes infected with malaria, a disease estimated to kill 655,000 people annually on the continent.
Insecticide-treated nets are commonly used to keep mosquitoes out of African homes but those are not practical to wear during the day - and they say the Cornell prototype garment does not dissipate easily like skin-based repellants. By binding repellant and fabric at the nanolevel using metal organic framework molecules, clustered crystalline compounds, the mesh fabric can be loaded with up to three times more insecticide than normal fibrous nets, which usually wear off after about six months.