The Maasai Have Woken Up, They're Trademarking their name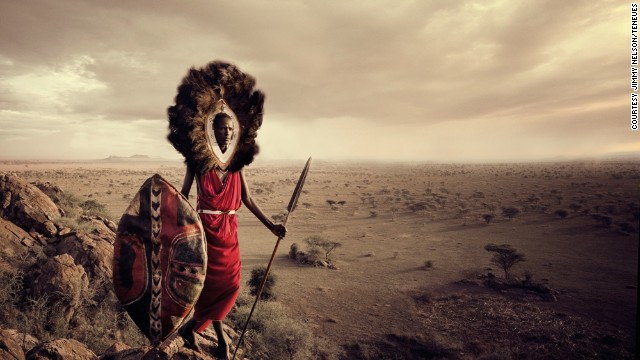 The Maasai tribe has been long used by very many companies and very many parties with little benefit to the tribe, now they're tired of being misused and decided its high time they trademark their name.
You know what means, taking a single photo of a maasai is about to cost you liver! So Everyone that's making dollars off the maasai name/image anything that is a display of their culture...they're coming for your money and their share of profits
Masai Hotel, Rio Di Janeiro
Louis Vuitton's 2012 spring-summer men's collection
Thakoon
The shoe company Masai Barefoot Technology
Ron Layton, a New Zealander who specializes in advising developing world organizations on copyrights, patents, and trademarks, about 10,000 companies around the world use the Maasai name, selling everything from auto parts to hats to legal services! And 6 companies have each made more than $100 million in annual sales during the last decade using the Maasai name.
Layton
estimates that if the Maasai play their cards correctly they could see licensing revenues as high as $10 million a year within a decade, if the plan works that is
Ole Tialolo, Layton, and Erick ole Reson



Ole Mbelati, who works for a Kenyan nongovernmental organization, has driven down from Nairobi. He's speaking in Maa, the Maasai language, but wears jeans and a polo shirt. Most of the elders have come in the clothes they wear every day: bright red shukas, wrapped around them like togas. Some have sneakers on, but many wear homemade sandals crafted from tire treads. The women, as well as some men, wear intricately beaded earrings, necklaces, and armbands. They sit in a concrete building usually used for classes in veterinary medicine. Many have placed black wooden rods, the mark of a chief, on the table. A few hold up mobile phones, recording ole Mbelati as he explains the ways in which others are profiting at the tribe's expense. "Whose name is being used?" he asks. "It's the Maasai name. Who is becoming strong economically? The people who are using the Maasai name."The Delta Maasai pen is just one of the products on display in ole Mbelati's outreach session, an effort to organize one of Africa's most famous tribes to lay claim to the commercial use of their name and image.

Ron Layton, a New Zealander who specializes in advising developing world organizations on copyrights, patents, and trademarks, about 10,000 companies around the world use the Maasai name, selling everything from auto parts to hats to legal services.

Layton

estimates six companies have each made more than $100 million in annual sales during the last decade using the Maasai name. In 2003, Jaguar Land Rover sold limited-edition versions of its Freelander called Maasai and Maasai Mara.Louis Vuitton's 2012 spring-summer men's collection included scarves and shirts inspired by the Maasai shuka. The shoe company Masai Barefoot Technology (MBT) says on its website that the distinctive curved soles of its sneakers were inspired by "the wonderfully agile Masai people walking barefoot." Bedding by Calvin Klein (PVH), shirts and trousers by Ralph Lauren (RL), and cushions by Diane von Furstenberg have all been sold using the tribe's name. "Most of the value of the Maasai brand is not in the handicrafts the tribe produces," Layton says. "It's in the cultural value of an iconic brand."

Tribal elder Isaac ole Tialolo, 52, grew up near the border of Kenya and Tanzania. Long a campaigner for Maasai rights, most recently for water access for their cattle, he once broke the camera of a tourist who took pictures of him without permission. On a visit to Mombasa, Kenya's second-largest city, he got into an argument with a Chinese restaurant owner who'd used statues of Maasai men and women to indicate the toilets. "I was really angry," he says. "I did not even eat." When a friend told him of Layton's interest, he was quick to get in touch. "We knew there were a lot of misuses of our culture," ole Tialolo says. "We didn't know what to do about it."
ole Tialolo & Layton

spent the last four years working on the Maasai case, helped by a $1.25 million grant from the U.S. Patent and Trademark Office. Much of the effort so far has centered on creating an organization that could credibly represent the Maasai. Although well organized locally in clans and subclans, the tribe is spread across two countries and lacks a centralized administration. Layton and ole Tialolo need to create one. They've registered a Tanzanian nonprofit called the Maasai Intellectual Property Initiative (MIPI), endowing it with bylaws they hope will reflect traditional Maasai culture and satisfy the requirements of Western courts. Ole Tialolo estimates there are 1,200 Maasai elders and leaders. He's working to persuade the traditional chiefs, elected officials, and heads of civic society groups to join MIPI's general assembly.

Layton

and ole Tialolo plan at least 20 recruitment meetings like the one in northern Tanzania. By early next year, Layton says he wants to have enlisted at least 900 signatories—enough that MIPI's right to the Maasai name cannot be credibly challenged. At that point, the group will make an official declaration at Suswa, a traditional place of gathering at a double-cratered shield volcano west of Nairobi, where the tribe has settled issues of war and peace. Then the general assembly will elect a board to represent it, and MIPI will begin laying its claim. Layton estimates that if the Maasai play their cards correctly they could see licensing revenues as high as $10 million a year within a decade.source: DiasporaMessenger, Businessweek