2013 News that shook Tanzania
A walk down Memory Lane on Tanzania's Biggest Headlines in 2013 ....Did i forget something?
January
Crowded Star Times Offices as Customers Buy Star times Decoders
T
anzania
implemented the East African resolve to have digital televisions as part of International Telecommunications Union (ITU) demands come 2015. At the stroke of Midnight 00.00 01- 01- 2013 all Televisions went Digital. The switch from analogue to digital broadcasting requires both broadcasters and consumers to buy new equipment that converts analogue signals to digital.
T
he Tanzanian High Court has finally granted bail to film actress Elizabeth Michael alias Lulu who was charged with manslaughter.
Lulu allegedly killed without intention a local movie star Steven Kanumba on April 7, 2012 at Sinza Vatican in the city.
D
emonstrations by Mtwara's residents demanding tangible benefits from the natural gas discovered off Mtwara's coast and protesting plans to transport the gas to Dar es Salaam for electricity production
Mtwara got violent, residents say they were opposed to the planned construction of a pipeline to convey gas to Dar es Salaam.They said the only way "forgotten" Mtwara could benefit from vast reserves of gas discovered in the region was for the resource to be processed at its source to create employment and fuel development.
F
amous Irish Mountaneer Killed on Mt Kilimanajro after being struck by lighting
February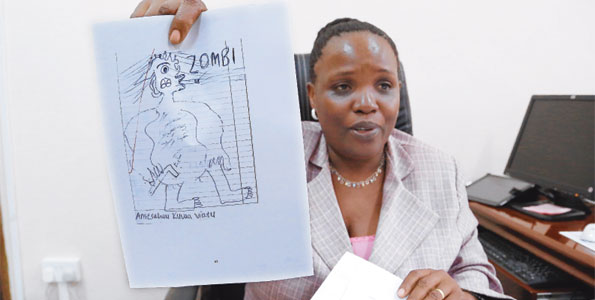 Executive Secretary for the National Examination Council of Tanzania (
NECTA), Dr
Joyce Ndalichako holding up one of answer sheets of Form 4 2012 Necta candidates
M
ore than 65% of Tanzanian students failed the 2012 form four examinations, the worst result in history, spurring the government to form a temporary inquiry commission.
Only 126,851 passed the examination out of the 397,132 who attempted it. In 2011, 53.6% passed, and 50.4% passed in 2010.
March
1
6-storey building that collapses at the junction of Indira Gandhi and Asia streets ,one of Dar es Salaam's busiest business centres.
The tensions erupted into violence in the town of Buseresere in Tanzania's Geita region, where Muslim resentment had been growing over newly opened Christian-operated butcheries
Pastor Mathayo Kachili of the Tanzania Assemblies of God Church (TAG) was killed while trying to intervene in an attack by Muslim youths against Christian butchers, Six days later, Father Evarist Mushi, a Catholic priest, was
murdered on the island of Zanzibar
April
Sanjay, KFC Tanzania's First Customer
KFC Opens Branch in Dar Es Salaam! ( Come on this was news too, there were atleast 400 people on the grand opening day)
Tanzania Foreign Minister Bernad Membe
Survivers Paddle to land
FFU trying to calm the chaos in Mbeya as EFD Protests get violent
Kariakoo Businesmen Protest EFD Machine
E

thiopian

Boeing

767 crash-

lands in Arusha

with more than 200 passengers and crew on board cruised the entire length of the runway before skidding and coming to a stop on the grass. It landed in Arusha by Mistake, no one was hurt