Forbes 10 Most Powerful Men in Africa: January Makamba & Mohammed Dewji Top the List!
Thats Right People this 2014, Forbes has declared 'these men' the most powerful in Africa. Two Tanzanians topping the list! January Makamba at no.1 and Mohammed Dewji at no.3! Janaury's Presidential running rumors just hit forbes desks too, ha!
Forbes stated: Our list is distinctive in that it identifies African men who are innovative, courageous, daring and often disruptive in their fields. The list highlights African entrepreneurs, corporate executives, social entrepreneurs, political and civil leaders who are changing the continent and the world around them, often times without much fanfare.
Read the Full list below
1.January Makamba,Tanzania, Deputy Minister of Communication, Science & Technology and Member of Parliament
Makamba is one of

Tanzania

's rising stars in government. He is currently the

Deputy Minister of Communication, Science and Technology

and is rumored to run for President in 2015. Makamba is a Member of Parliament for Bumbuli constituency in the National Assembly of Tanzania. Before running for the Bumbuli parliamentary seat, Makamba was aide to Tanzanian President Jakaya Kikwete for 5 years. Named Young Global Leader class of 2012 by the World Economic Forum, Makamba comes from a political family; his father, Yusuf Makamba was Secretary General of the ruling CCM party under Julius Nyerere
2.Chinedu Echeruo,

Nigeria

, Tech Entrepreneur & Founder of Hopstop.com and Tripology.com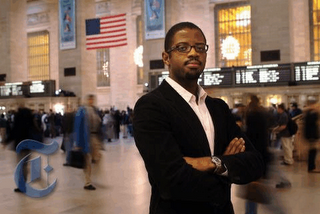 Echeruo is a Tech entrepreneur and founder of

HopStop.com

which he reportedly sold to

Apple

in the "billion" dollar range. Chinedu also founded

Tripology.com

, an interactive travel referral service focused on connecting travelers with travel specialists which was later acquired by USA Today Travel Media Group
3.Mohammed

Dewji,

Tanzania, Group Chief Executive Officer of Mohammed Enterprises Tanzania Limited
Mohammed Dewji is the Group Chief Executive Officer of

Mohammed Enterprises Tanzania Limited

(MeTL) and at 39 is the youngest member of the Forbes'

Africa

's 50 Richest

list with an estimated networth of USD $500 million.
4.Kola
Karim
,
Nigeria
, Group Managing Director and Chief Executive Officer of Shoreline Energy International
Karim is the Group Managing Director and Chief Executive Officer of

Shoreline Energy International

, a Nigerian conglomerate with interests that span oil & gas, power generation, engineering, commodities trading, infrastructure and construction across sub-Saharan Africa.
5.Ashish Thakkar
,

Uganda
, Founder and Managing Director of Mara Group, Mara Foundation and Mara Online
Thakkar is the Founder and Managing Director of

Mara Group

, a diversified conglomerate with approximately USD $100 million in revenues, according to Thakkar. The group operates in operates in 19 of the 46 sub-Saharan African nations, as well as in India and the United Arab Emirates.
6.Mamadou Toure,
Cameroon
, Founder and Executive Director of
Africa
2.0
Toure is the founder and Executive Director of

Africa 2.0

, an advocacy group of young and emerging leaders from across the continent and the diaspora who have a collective vision for Africa.
7.Amadou Mahtar Ba,
Senegal
, Founder and Chief Executive Officer of the African Media Initiative
Mahtar Ba is the Founder and Chief Executive Officer of the African Media Initiative (AMI), a pan-African organization aimed at strengthening the media sector in Africa.
8.Simdul Shagaya,

Nigeria
– Tech Entrepreneur and Founder of Konga.com and DealDey.com
Shagaya is the founder and CEO of

Konga.com

,

Nigeria

's largest online shopping portal and

DealDey

spinoff site. Konga.com, Africa's answer to

Amazon.com

, is an e-commerce platform that sells goods and services directly to consumers. Shagaya is also the founder & Executive Chairman of DealDey Limited, which offers services and products at discounted prices. In
9.Ben Magara,

Zimbabwe

, Chief Executive Officer and Director of Lonmin
Recently appointed as the Chief Executive Officer and as a Director of

Lonmin

, the world's third-largest platinum mining company, he has a mining career that spans 26 years, Magara was previously the Chief Executive Officer of Anglo Coal South Africa responsible for Anglo American total coal business in South Africa and revenues of around USD $2 billion.
10. Komla Dumor
,
Ghana
, Lead Presenter on "Focus On Africa" and BBC World News' European morning segment
In memoriam. The highly-respected presenter of "

Focus on Africa

", BBC's flagship and first-ever dedicated daily TV news show on BBC World News died of cardiac arrest on January 18 earlier this year at his home in London. Dumor, who was named one of "

100 Most Influential Africans

" in 2013 by

New African magazine

, had "established himself as one of the emerging African faces of global broadcasting."As a lead presenter for BBC World, Dumor had considerable influence on how the continent is covered.