Dear Rehema #HailWomen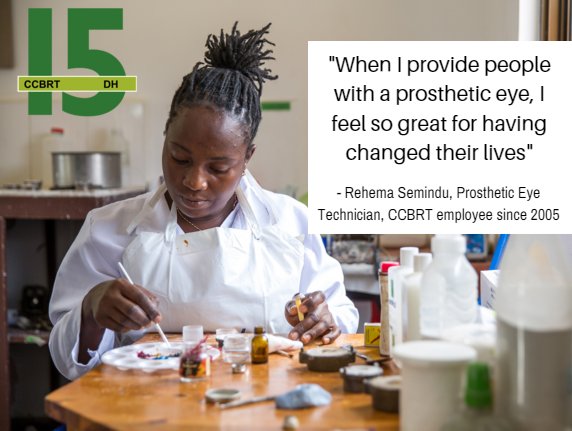 CCBRT is 15 Today and they're looking back at their 15 years in operation, I picked up this special lady on their blog, she is the only Prosthetic eye technician in Tanzania! Kudos!
Rehema Semindu is CCBRT's prosthetic eye technician. Our prosthetic eye unit is the only one in all Tanzania, so Rehema's job is quite unique. As part of our look back at the past 15 years of CCBRT's Disability Hospital, You can read her story below
Rehema, when did you first start working at CCBRT? What was your background before this?I first started working at CCBRT in 2005. I went to college in 2003 with the aim of studying a learning certificate in procurement. Unfortunately, I had to leave half way through my course as the college fees were a problem, and got a job at a wheat flour factory. I worked there for a few months before someone volunteered to send me to college and help me complete my studies, so I quit the job but there was no word from the person who offered to help!That was in 2005, and a friend told me that CCBRT were looking for cleaners. I applied and got a job, and I worked as a cleaer from 2005-06. In January 2007 I was promoted to a nursing assistant and studied a three-month course, and at the end was awarded an ophthalmic assistant's certificate. The same year the head of the Eye Department offered me the opportunity to learn more about the eye. Visitors came from the Institute of Maxillofacial Prosthetists and Technologists to train me to make artificial eyes, and in 2012 I was awarded a certificate of membership of the institute.What's a normal day like for you? What do you enjoy about your job?I normally attend to around 4 patients a day at different stages of the prosthetic eye fitting process. I work alone but am normally busy right up until the end of the day! When I provide people with an artificial eye and see how happy they become I feel so great for having changed their lives.- CCBRT ORG.